Ad blocker interference detected!
Wikia is a free-to-use site that makes money from advertising. We have a modified experience for viewers using ad blockers

Wikia is not accessible if you've made further modifications. Remove the custom ad blocker rule(s) and the page will load as expected.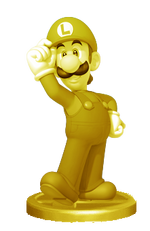 "It was his year! HE WAS NUMBER ONE!"
Here we go again, it's that time of year, baby~! Put down your favorite games of 2013... and if you'd like, check out our choices from 2011 and 2012. If you can't quite remember what came out this year, then this link ought to help you out. Also, this year I'm adding the honorary Phil Fish award, for game you wish never existed, but was in fact released this year. And here we go!
And the Winners are...!
Edit
| User | Game of the Year 2013 | Game of the Year 2013 Runner-Up | Favorite Game Played in 2013 | Favorite Game Played in 2013 Runner-Up | "Phil Fish" Award | Looking Forward to in 2014... |
| --- | --- | --- | --- | --- | --- | --- |
| MFGreth | The Legend of Zelda: A Link Between Worlds | Sly Cooper: Thieves in Time | Final Fantasy XIV: A Realm Reborn | The Legend of Zelda: A Link Between Worlds / Pokemon X & Y / Naruto Ultimate Ninja Storm 3 Full Burst | DmC: Devil May Cry | South Park: The Stick of Truth (still...), Pier Solar HD (STILL...), Metal Gear Solid v: Ground Zeroes Castlevania: Lords of Shadow 2, One Piece: Romance Dawn |
| Cloudman15 | Super Mario 3D World | The Legend of Zelda: The Wind Waker HD/Sly Cooper: Thieves in Time/Metal Gear Rising: Revengeance | Asura's Wrath/Project X Zone | Pokemon X, Dark Souls: Prepare to Die Edition, Fire Emblem Awakening, One Piece: Pirate Warriors, Fist of the North Star: Ken's Rage, Tekken Tag Tournament 2, PlayStation All-Stars: Battle Royale | Rockman XOver | JoJo's Bizzare Adventure: All Star Batlle ORAORAORA, BlazBlue Chronophantasma, MGS V, One Piece: Romance Dawn, Castlevania: Lords of Shadow 2, Dark Souls II, Smash 4, Mario Kart 8, Persona 5, inFamous: Second Son, Kingdom Hearts III, WatchDogs, Naruto Storm Revolution, One Piece Unlimited World R, Ultra Street Foghter IV, Persona Q Shadows of the Labyrinth, Kingdm Hearts 2.5. |
| puyo | Dragon's Crown | Tomb Raider | Dead Space 3 (co-op) | Dragon's Crown, Tomb Raider | Aliens: Colonial Marines | Overgrowth |